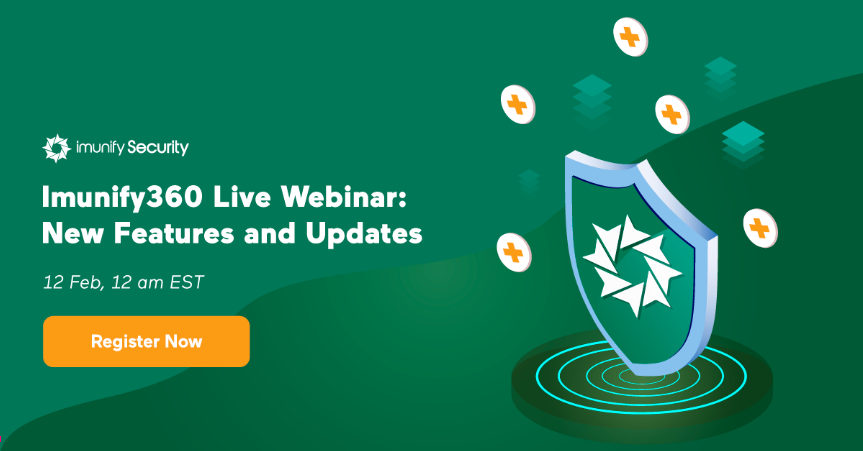 At 12 noon (Eastern Standard Time) on Wednesday, 12 February, we'll be conducting a webinar on Imunify360. Click hereto sign up and join the conversation on what's new with our automated server protection suite. You could check webinar recording here.

Learn about new features and updates
During this webinar, the first of several we'll be doing this year, the Imunify360 product team will be discussing new features and updates to version 4.5:
The new stand-alone installation
Imunify360 can now be installed directly on the server, independent of any control panel such as cPanel, Plesk, and DirectAdmin.
The Exim+Dovecot PAM module extension
This new PAM module extension protects against brute-force IMAP/POP3 attacks targeting Exim+Dovecot setups.
IP management via CLN-based groups
Admins can now block/whitelist particular IPs across a group of servers, with the group being managed in the CLN.
Updated Proactive Defense ruleset
The updated ruleset prevents threats and attacks not currently covered by the Web Application Firewall.
We'll also be discussing the upcoming 4.6 release of Imunify360.
Engage in the question/answer session
The Imunify360 product team will be answering questions in real time during this webinar. If you have any questions that you'd like answered, just send them to us in advance at feedback@imunify360.com.
Sign up to attend this webinar
To attend this webinar, first download and install the Zoom client for meetings, if you don't already have it. Then register as an attendee, and you're good to go. We're looking forward to seeing you there!