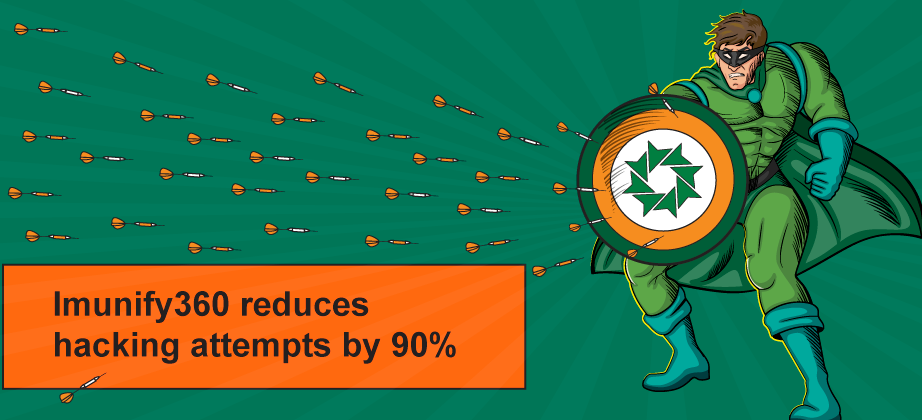 If you're using a well-known website antivirus and anti-malware solution, you wouldn't expect to be hacked on average 12 or so times per month, would you?
Well, yes, you would, but only if that well-known name isn't Imunify360.
This was the case at Yourname.nl, a Dutch hosting provider offering cost-efficient WordPress and Joomla hosting for SMEs and individuals. Their customers' sites were being compromised around 3 times a week, even though they'd tried vanilla ModSecurity and a widely marketed website security solution provider.
When they installed Imunify360, their cybersecurity incidences went down by over 90%.
While it is easy to calculate the reduction in infiltration attempts, it is all but impossible to fully gauge the benefits, except to consider the following:
no more manual intervention and cleanup;
no more unhappy customers;
no more system reboots and downtime;
no more panic attacks for system administrators.
Needless to say Yourname canceled their contract with their existing security solution. (We don't want to mention which one, we only want to say 'sorry' to them.)
"We were looking for a security solution with which we could protect all websites, minimize service interruptions and could create a happier customer. Now that we're using Imunify360 all of our customers get the best service and our personnel doesn't have to work overtime anymore. That's why we are very satisfied with Imunify360."

Marcel van Offeren

Since its launch in January 2017, Imunify360 has been rapidly overtaking and out-performing its sector competitors. Imunify360 was created by CloudLinux, the leading web hosting OS provider, specifically for web hosting companies of all sizes and all types of service offerings.
With an integrated and modular organization, Imunify360 scales with your company and your needs as a secure and reliable web hosting service. It is a multi-layered defense system, with intelligent firewalls and IDS/IPS, precision targeting and eradication of malware and viruses, a centralized cyber incident management control panel, Hardened PHP and 'Proactive Defense', automated Linux kernel patch management, reputation management, all unified in one cohesive package, making it comprehensively the best choice for web hosting companies who are serious about security.
That's why Yourname chose it. Shouldn't you, too?