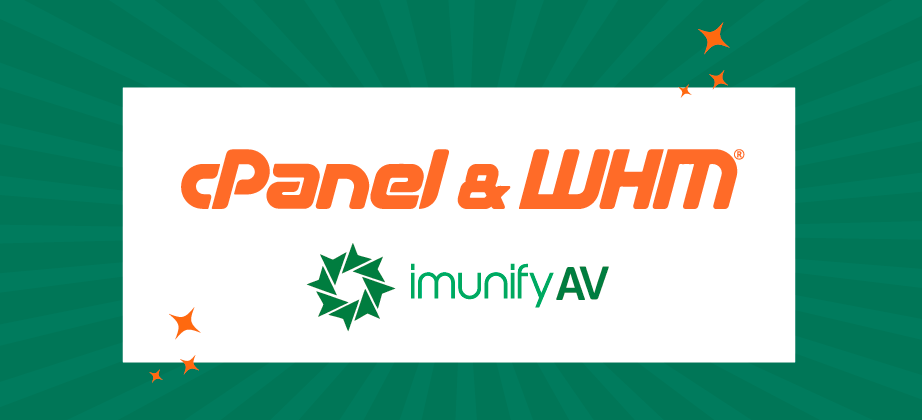 The good news just keeps coming: cPanel & WHM integrates ImunifyAV into its hosting automation platform.
cPanel is integrating ImunifyAV, our free linux server antivirus and anti-malware scanner, into its famous web hosting control panel.
In addition to that, discover our new article covering only the best tips on how to take your cPanel security to the next level.
ImunifyAV automatically scans your web site for malicious files and it does it for free. It can detect all kinds of malicious files, such as backdoors, web-shells, viruses, hacker's tools, black hat SEO scripts, phishing pages, and others. If any are found, ImunifyAV will report back telling you how to remove them manually.
I appreciate that not everyone has the time or knowledge to do this, so there's a built-in upgrade option to ImunifyAV+ which lets you perform an automated one-click clean up. It's quick, it's thorough, and it removes the stress and worry usually associated with managing your cybersecurity defenses.
For those web hosters that need a comprehensive, all-in-one security solution, there's a further upgrade option available in the form of Imunify360. More and more web hosters and Linux server managers around the globe are choosing Imunify360 for its ability to protect web servers and websites effectively and simply. Its multi-layered security architecture incorporates a firewall, WAF, IDS and IPS, and advanced machine learning for dynamic rule and signature creation. There's also our unique herd immunity, the name we give to how Imunify360 instances share threat intelligence information among one another, forming a web of cyber threat knowledge greater than the sum of its parts. All in all, it makes Imunify360 the complete, perfectly integrated web security package.
I'm honored that cPanel is offering ImunifyAV within their products and I'm sure the good news will just keep on coming. If you want to get in touch, or talk about this or anything else, I'll be glad to hear from you.