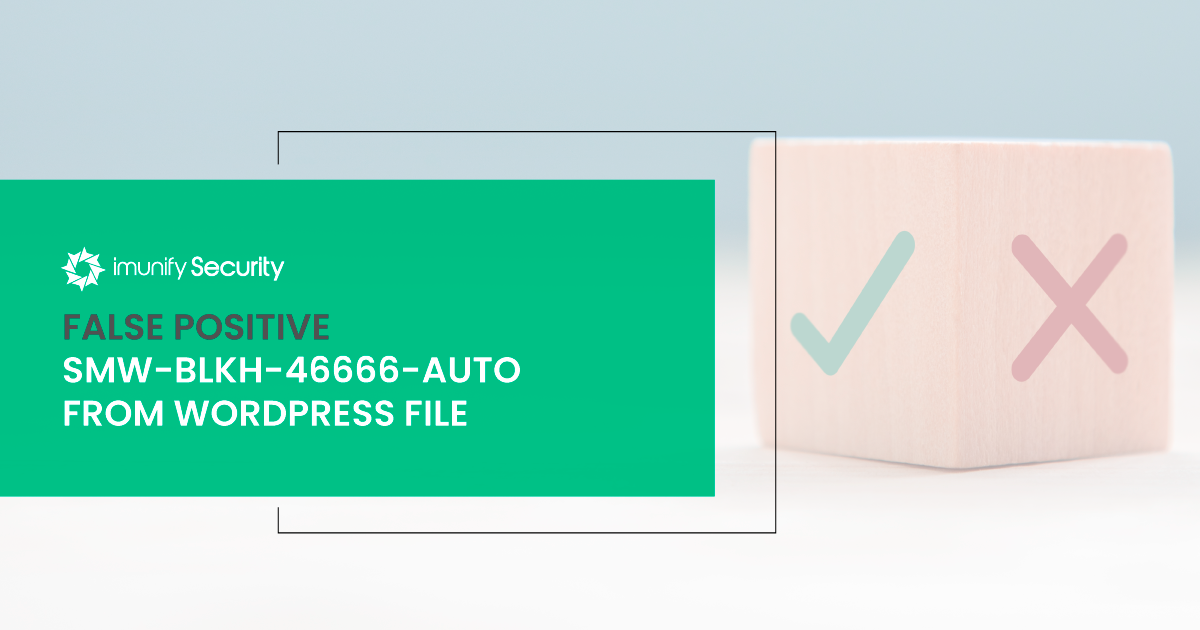 8 Jun, 2020 new Black Hashes DB for Imunify products were released.
Release details:
UUID: 0d09db4d-8610-4a74-b026-1934bb1e9854
Date: 2020-06-08
By this update legitimate WordPress file wp-blog-header.php was rated as malicious with verdict SMW-BLKH-46666-auto which caused False Positive alerts.
Imunify360 team removed this False Positive black hash and released hotfix 14 hours later:
Release details:
UUID: 98d38e06-ed62-4bfc-bd66-32253caeaefe
Date: 2020-06-09
Removes SMW-BLKH-46666-auto
Due to Imunify products internal logic there might be some left overs, so you need to do a few manual steps to completely fix the issue.
Mitigation steps
First you need to make sure you have "

wp-blog-header.php

" files rated as malicious (SMW-BLKH-46666-auto). You can stop right here if no such files were found.


Force malware signatures DB update

| | |
| --- | --- |
| Imunify360 | ImunifyAV/AV+ |
| # imunify360-agent update sigs --force | # imunify-antivirus update sigs --force |
3. Following steps depend on your cleanup settings

notify

cleanup, quarantine or delete

Do a touch for each affected file:


# touch <file>




Re-scan

Restore files from backup
4. False Positives should be already fixed at this point.
Stay In Touch
If you encounter any problems with this false positive fix, please send a comment or request to our Imunify support team via https://cloudlinux.zendesk.com/hc/requests/new. Additionally, read our website hosting security article and learn how to keep your website secure in 2021.