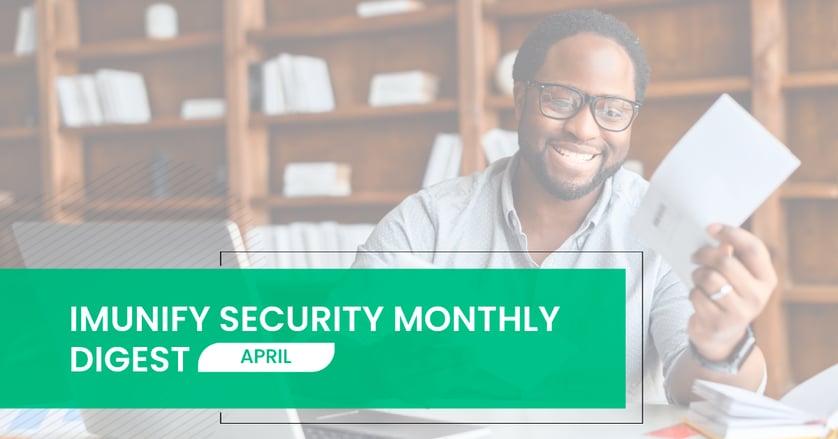 Despite the fact that the fact that trees are blooming and everyone is enjoying spring sun, this month was busy for the Imunify Security team. Another version of Imunify360 was released, version 5.6. and Imunify version 5.7 came out in beta. Keep on reading to find out more about the latest package updates and some tips on how to stay secure.
The new version of Imunify360 released in April, version 5.6

The new version of Imunify360 released in April, version 5.6 includes:
Anti-bot protection ("Splash screen" challenge)
The Anti-bot WebShield extension came out to stop unwanted content scraping, web spam, and other malicious activity caused by bots. Additionally, this extension significantly reduces CPU usage and server load by filtering out malicious requests and web attacks.


Ubuntu 20 support
Starting from version 5.6. Imunify360 will support Ubuntu 20 across all versions, including Plesk, DirectAdmin, and no panel ("stand-alone") installations.
Acronis Backup tokens auto-renewal
Improved back-up workflow related to Acronis tokens, which makes the process more reliable and fully-automated.


Gradual removal of "Delete" and "Quarantine" actions (stage 2)
The second stage of "Delete" and "Quarantine" default action removal in the Malware Scanner. All stages were announced and explained in our earlier blog.


Cache for RBL checks in PAM
The optimized workflow in the PAM module relates to Real-Time Blacklist queries.

Read this blog on Release Notes Imunify360 version 5.6 post to find out more about each feature.

How to Forcibly Enable Blamer for All Users on the Server


Imunify360 team worked on improving Blamer settings to lower the possibility of issues arising for the hosting providers, giving them a way to enable Blamer for all users on the server. Keep on reading to learn more about what has changed and provide instructions on how to forcibly enable blamer in the settings.

Fake and Malicious Wordpress Plugins

Web-designers and developers tend to use plugins to make the website more interactive or enhance the tracking of particular website elements. But, did you know that some plugins could be fake or malicious? Krithika Rajendran, Malware Analyst at Imunify Security, provides an overview of wp-sleeps Wordpress plugin behavior and gives tips on how to keep your server protected from malicious plugins.
Imunify Security April, 2021 Updates


Here is the list of all updates that took place in March, 2021: