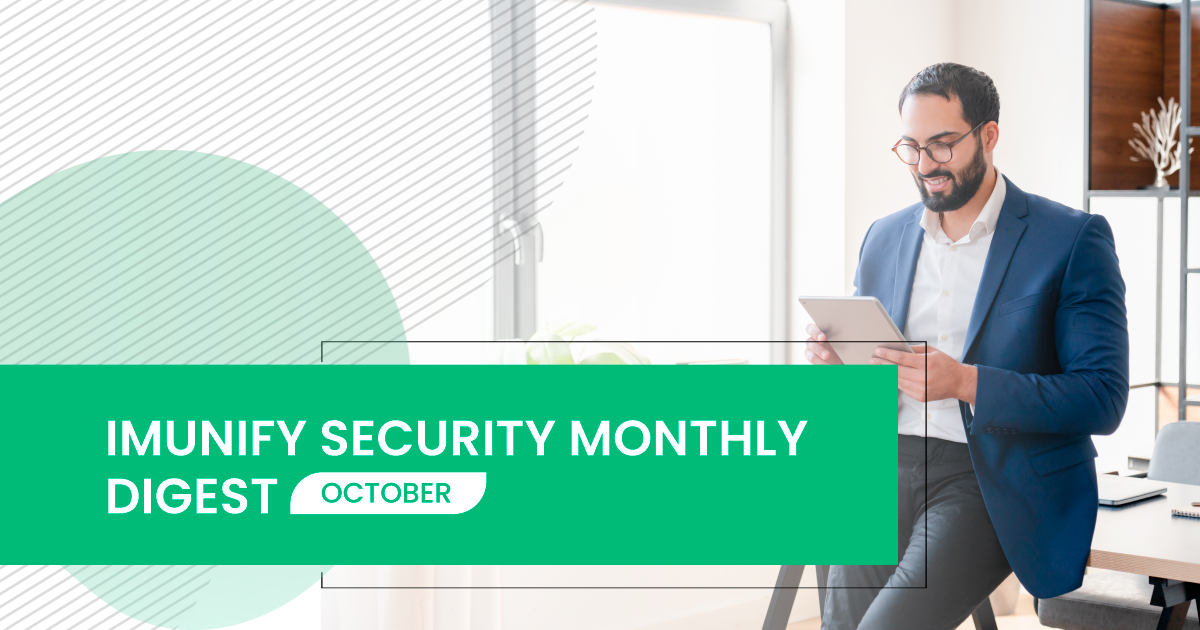 October 2021 was a busy month for the Imunify360 team - beta Imunify360 v.6.0 with an ultimate Malware Database Scanner and changelog page came out. In addition, the Imunify360 team is thrilled to talk more about v.6.0 and invites you to a webinar. Register now and keep reading the monthly digest to learn more about the latest product updates and security trends.
New Releases
The new version of Imunify360 released in October, version 6.0 includes:
Malware Database Scanner
Our new Malware Database Scanner lets users find and clean malicious code in the database.
Walkthrough video
We added into the interface a handy reminder for you to brush up on the functions and how each feature works. Just click on "Watch walkthrough video" in the upper left corner and familiarize yourself with a particular bit of the interface.
Read this blog on Release Notes Imunify360 version 6.0 post to find out more about each feature.
Also, join our webinar on November 3rd, 2021 at 11.00 EST to discover how MDS works. Register now!
Live Webinar, November 3, 2021 : Imunify360 v.6.0 - Revolutionary Malware Database Scanner
Eric Ellis, Technical Account Manager for Imunify Security, will be happy to tell you more about Imunify360 v.6.0 and Malware Database Scanner. The webinar will take place on November 3rd, 11.00 AM EST. Register now to learn more!
AI-Bolit security issue
AI-Bolit security issue was discovered. It could potentially cause arbitrary command execution, so our team made sure we fixed it quickly. Continue reading to learn more.
High severity vulnerabilities in Piotnet Forms Free/Pro and Piotnet Addons For Elementor Pro Plugins
Sergey Brazhnik, Imunify360 Security Researcher, conducted comprehensive research of vulnerabilities in Piotnets forms and addons and prepared a list of recommendations on how to protect your servers from vulnerabilities' exploitation.
Imunify360 Introduces Release and Changelog Tracking Tool
In October 2021, the Imunify360 team introduced a release and changelog tracking tool where you could easily find information about latest product updates. Keep on reading to learn more.
Imunify Security October, 2021 Updates
Here is the list of all updates that took place in October, 2021: