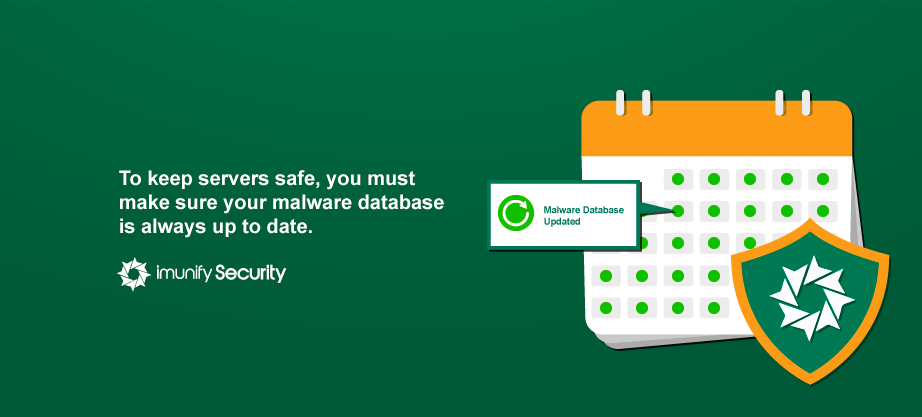 Malware changes daily, sometimes hourly.
To keep servers safe, you must make sure your Imunify360 malware database is always up to date. We're striving to make Imunify360 the easiest way to keep Linux web servers secure. So we're announcing that, as of July 10, 2019, the Imunify360 and ImunifyAV malware and black hash databases get updates every business day.
Malware Database
Our Malware Database is a curated collection of more than 3,200 unique patterns, or signatures. These form the basis for a much wider set of possible signatures that match obfuscated, polymorphic, and encoded variations of malware-infected files.
Black Hash Database
In addition to a broad, pattern-matching strategy, we also use a focused approach using information gathered from real-world examples of malicious files. Our proprietary Black Hash Database is a private collection of thousands of hashes of known malicious Linux executables, trojans, miners, and other dangerous files. It augments our malware database, giving the Imunify scanner an edge in detecting malware variations other scanners just can't see.
What this means to you
Everything and nothing.
You are safer and you don't have to do a thing—Our malware analysts add dozens of signatures every day; Imunify360 automatically downloads and installs them. Daily malware updates lets Imunify360 detect the newest and most dangerous strains of malware, viruses and other malicious binaries, be they written in PHP, JavaScript, Perl, Python, or other scripting languages. It also means we can more quickly remedy false positives, further improving our already low rate.
To see how great our scanning engine is, try ImunifyAV, for free. To get the fullest protection and discover how linux malware scanner works automatically, take a look at our all-in-one security solution for Linux servers, Imunify360.