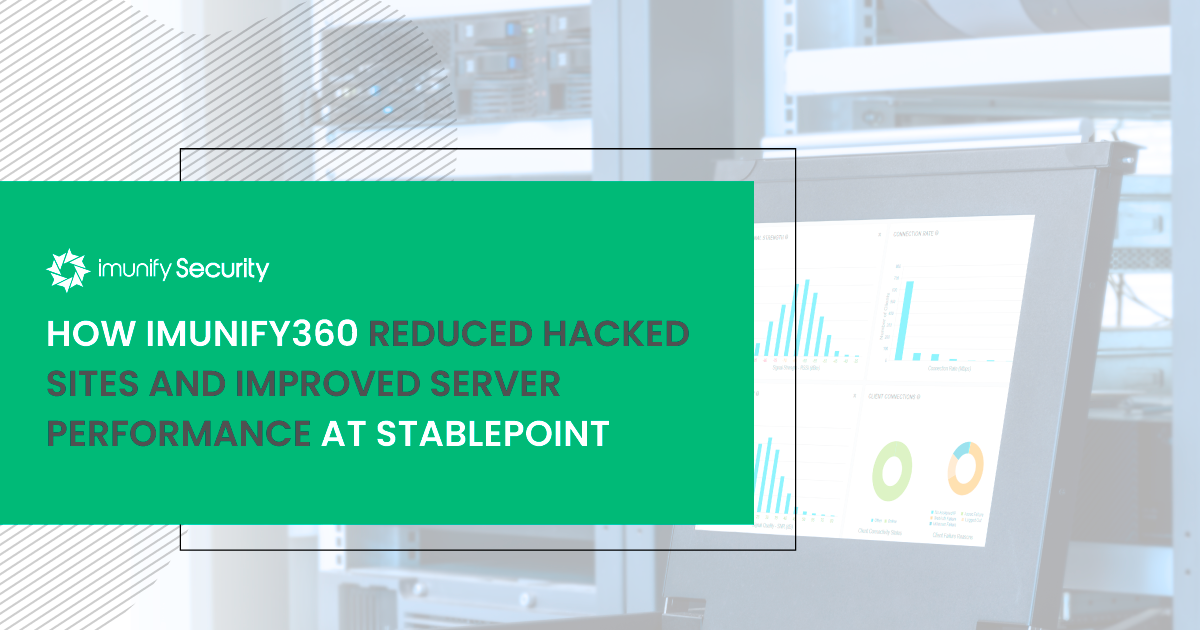 Stablepoint supports over 60,000 websites across 38 locations. The web hosting organization prides itself on a 5.0 Trustpilot rating based on customer reviews and satisfaction. Stablepoint optimizes their web servers for speed and reliability, but the company experienced issues with hacked sites on shared hosts. Malware exhausts server resources, so Stablepoint administrators spent enormous amounts of time identifying hacked sites, removing malware, and closing tickets to maintain performance.
When threat actors compromised Stablepoint customer sites, malware injected onto servers exhausted resources, harming performance of other sites hosted on the server. Compromised sites usually stem from outdated scripts or insecure WordPress plugins. Site owners were unaware of the compromise, so administrators needed a solution to quickly identify hacked sites and remediate them quickly.
Stablepoint turned to Imunify360 to help stop malware and avoid performance degradation caused by hacked sites on shared hosting servers. By blocking malware files, injected malicious code, and brute-force attacks, Stablepoint administrators were able to reduce tickets related to cybersecurity incidents, block malicious code proactively, and block repeated authentication attempts that could cause an account takeover. In some instances, Imunify360 blocked code injection automatically and cleaned hacked files.
With fewer compromised sites, Stablepoint had more server resources to handle web traffic and hosted site execution, so customers saw an increase in performance. Technicians and administrators received detailed Imunify360 reports so that they could identify hacked sites quickly. The Imunify360 Proactive Defense tool blocked automated attacks against WordPress accounts, so site owners experienced fewer compromises. The reduction in cybersecurity incidents freed up staff time, provided more bandwidth for real business traffic, and preserved server performance.
With Imunify360, Stablepoint took a proactive approach to shared hosting, cybersecurity, and keeping customers satisfied. Their technicians continue to work with Imunify360, and customers have a better experience keeping them satisfied so that Stablepoint can increase customer retention. Read the full story and check video testimonial from Stablepoint below.