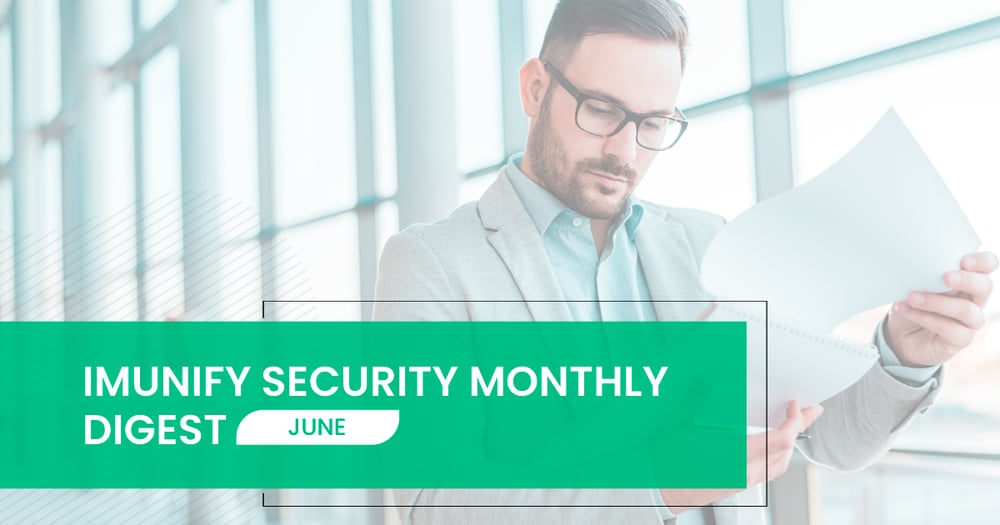 June 2022 was a busy month for the Imunify360 team. The new version of Imunify360, v.6.5 was released to beta while v.6.4 is now stable. The Imunify360 team is also excited to announce the Early Access program for SecureSite, a non-profit program and Imunify360 demo environment.
Keep on reading to learn more.
New Releases - Imunify360 version 6.4.
Released in June, the new version of Imunify360 , version 6.4, provides the following features:
IP management system improvement
In this release, we changed the visual presentation of IP address statuses. We introduced a view that presents in a single table whether they belong to a White, Drop, Captcha or SplashScreen list.


Enhanced memory management for Malware Database Scanner
We expanded the Malware Database Scanner memory pool, and introduced a setting that lets users set a custom RAM usage limit.


Refined logic for scanning archives
By observing the patterns in the archived scans, we came up with a way to improve the detection of malware by changing the logic behind how they are scanned.
This blog post on Imunify360 version 6.4. will guide you through the new features.
The Imunify Security team is happy to announce SecureSite for Hosting Providers. SecureSite by Imunify is a new product that helps you generate more revenue from existing customers, attract new customers and add extra value to your WordPress environment.
The official launch of SecureSite Early Access Program will take place in June, 2022. Register now and be added to the waitlist to be one of the first to know about the latest updates.
Hosting Providers must meet the following requirements:
Must have Imunify360 & cPanel installed on your server.
Be the first to make your WordPress hosting offering stand out. Check the link below to learn more and register now!
Imunify360 demo is going live!
We are pleased to announce that we are making a Demo Instance of Imunify360 available on our website. o get a first glance at the interface and get acquainted with the product or examine functions and capabilities, fill out our extra-short form and dive in. The demo will open in a browser window as the full and latest version of Imunify360. So please, feel free to explore it.

CloudLinux Non-Profit program is on a mission to help the Linux community support non-business entity projects that make our world better. We are happy to offer our products and expertise for free to make your Linux more secure, stable, and reliable. On this page, you can find detailed information on program terms and conditions and how to become a member.

It is time to say goodbye to PHP 4.4. As one of the earliest web development tools, we've supported PHP 4.4 for many years. However, the technology behind PHP 4.4 is outdated, and only a small number of websites still use it. We are officially end of life-ing our support for PHP 4.4. If you check the PHP.net end-of-life schedule, it's been dead upstream for 13 years.
We will not be patching security vulnerabilities in PHP 4.4 beyond Jul 1, 2023. If you use PHP 4.4, watch for the date. Read the full post to learn more.
Imunify Security June, 2022 Updates
Here is the list of all updates that took place in June, 2022: