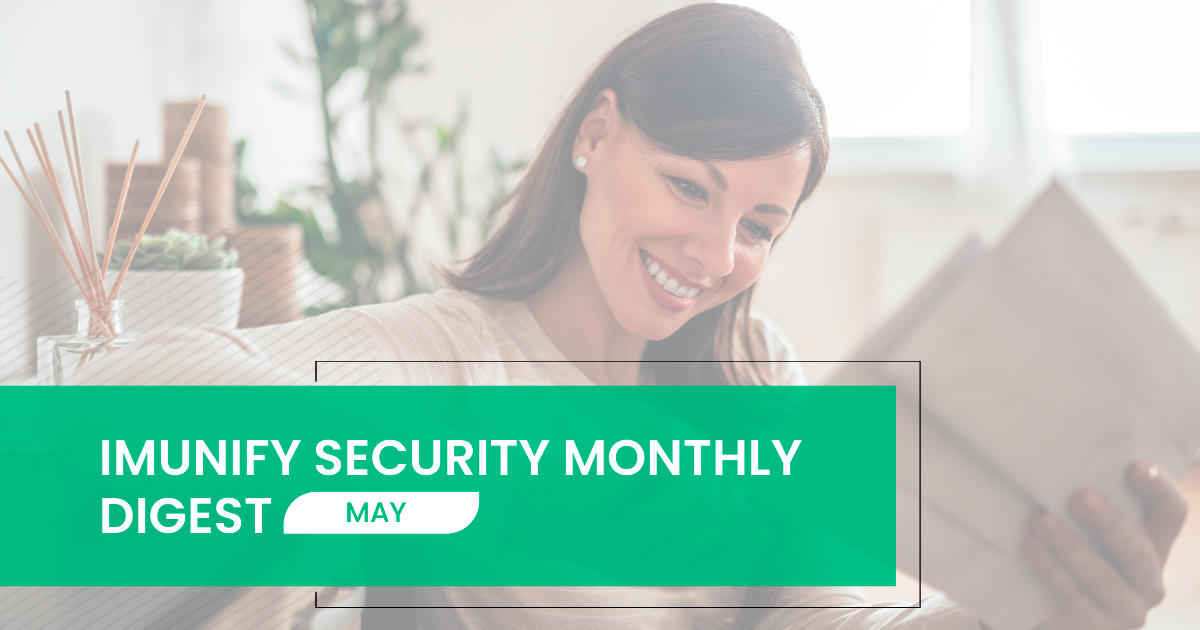 May 2021 was a busy month for the Imunify Security team. Another version of Imunify360 was released, version 5.7. In addition to that, the Imunify team took part in CloudTalk 2021 and skyrocketed it with Igor Seletskiy's speech about Imunify360' proactive approach to security. Keep on reading to learn more about new features, CloudTalk 2021 and cPanel security tips.
The new version of Imunify360 released in May, version 5.7

The new version of Imunify360 released in May, version 5.7 includes:
Apache + ModSecurity version 3 support on cPanel (experimental)
From now on Imunify360 v5.7 supports ModSecurity version 3 on cPanel.


Improved WebShield iptables functionality
This is an Improvement in how WebShield operates. Should any malfunction happen the system is going to revert to a standard configuration automatically and there will be no blocked or lost requests.


WordPress core files protection
This is a new way to provide protection from any malicious modification or execution for the legit WordPress core files and folders.


Active Response enhancement: custom SSH ports support
This feature provides flexible sshd protection that does not depend on port number. Imunify360 v5.7 detects the port that is being used and protects it.


Conceal passwords in logs
With this feature we come up with a better way to process and store sensitive data. A secure way is implemented for passwords to be sent.


OSSEC logs rotation
These changes allow to ensure OSSEC logs not increasing in size up to a point where they exceed the limit.


Better Ezoic CDN support
We are adding an option which allows to trust Ezoic CDN headers and resolve CAPTCHA.

Read this blog on Release Notes Imunify360 version 5.7 post to find out more about each feature.
17 ways to improve cPanel Security


cPanel has been the most recognized web-hosting platform for years. Yet, it is still important to make sure that your cPanel accounts are secure. Read the best tips for cPanel security from cPanel veteran, Eric Ellis, who is now a technical account manager for CloudLinux OS and Imunify Security products.
Events and incidents look

A couple of weeks ago Imunify360 introduced events and incidents lookup feature. This gives a possibility to find out more information about incidents including IP address, components, domain etc. Keep on reading to learn how to benefit from it.
Discover Server Security with Imunify360 at CloudTalk 2021

On May 26-27th, CloudLinux, Inc. took place at CloudTalk 2021. CloudTalk Global 2021 is the biggest online event in Eurasia uniting many companies interested in cloud computing, security and information technology in general. During this event, Igor Seletskiy, CEO of CloudLinux, Inc. presented a speech: "Proact, not overreact" spotting the light on how hackers hack and why Imunify360's proactive approach to security is yet the best solution for Linux server security.
Imunify Security May, 2021 Updates


Here is the list of all updates that took place in May, 2021: