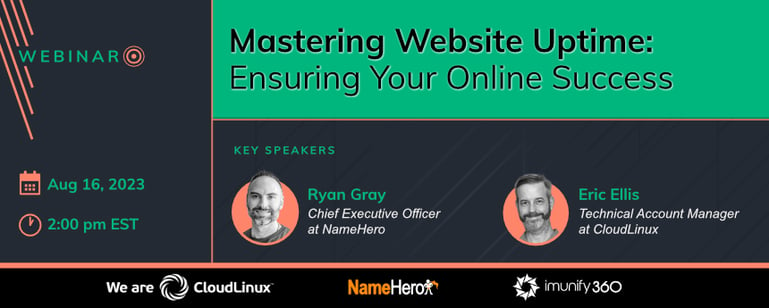 Are you a website owner? Do you rely on your website to drive business, engage customers, and generate revenue? If so, you understand the critical importance of keeping your website online and accessible to visitors. In today's digital age, downtime can have a significant impact on your bottom line and reputation. To help you navigate this crucial aspect of website management, NameHero, and Imunify360 are excited to present the webinar on "Mastering Website Uptime: Ensuring Your Online Success."

At NameHero and Imunify360, we specialize in web hosting and server security, and we understand the challenges that website owners face when it comes to maintaining uptime. In this webinar, our expert panelists, Ryan Gray, and Eric Ellis, will share their extensive knowledge and provide valuable insights into website uptime.


Ryan brings years of experience in web hosting, having worked with numerous clients across different industries. Eric, on the other hand, is a seasoned security expert who has helped countless businesses fortify their online presence. Together, they will guide you through the best practices and strategies to ensure your website remains online, secure, and successful.


Understanding Uptime
The Impact of Downtime
Common Causes of Downtime
Mitigating Downtime
Best Practices for Website Uptime
Q&A Session


Don't miss this opportunity to learn from industry experts and gain the knowledge you need to keep your website online and thriving. Register for our webinar today and join us on the journey to uptime excellence!