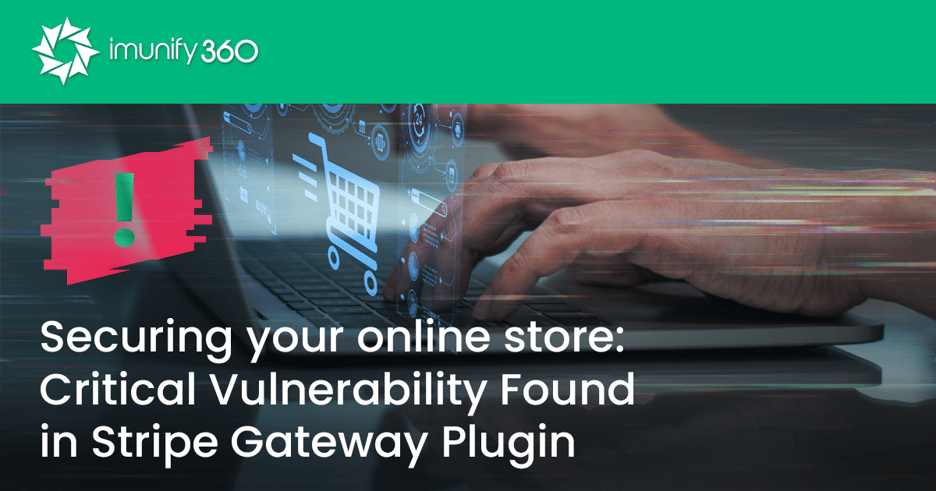 As the world becomes increasingly digital, e-commerce platforms have become a prime target for cybercriminals seeking to exploit vulnerabilities and gain unauthorized access to sensitive information. Recently, a critical security flaw was uncovered in the popular WooCommerce Stripe Gateway WordPress plugin, putting hundreds of thousands of e-commerce websites at risk. In this blog post, we will delve into the vulnerability details and explore how utilizing the Imunify360 server security suite can help prevent such incidents.
The Vulnerability
The security flaw, identified as CVE-2023-34000, affects versions 7.4.0 and earlier of the WooCommerce Stripe Gateway plugin. This vulnerability, known as an unauthenticated Insecure direct object references (IDOR) vulnerability, allows attackers to bypass authorization and gain access to sensitive resources. Specifically, the flaw originates from the insecure handling of order objects and the absence of proper access control mechanisms in the plugin's 'javascript_params' and 'payment_fields' functions.
Implications and Risks
By exploiting this vulnerability, hackers can view personally identifiable information (PII) data of WooCommerce orders, including email addresses, user names, and complete addresses. Such unauthorized access can lead to severe consequences, including identity theft, financial loss, and damage to the reputation of affected businesses. Therefore, it is crucial for e-commerce website owners to take immediate action to secure their platforms and protect their customers' data.
There is a simple solution
To safeguard your online store and mitigate the risks posed by security vulnerabilities like the one found in the WooCommerce Stripe Gateway plugin, Imunify360 provides an effective and comprehensive server security solution. Imunify360 offers a range of features designed to detect, prevent, and remediate attacks, ensuring the utmost security for your e-commerce website.
Malware Detection and Removal
Imunify360 employs advanced machine learning algorithms to detect and eliminate malware, including malicious codes injected by hackers. By promptly identifying and automatically cleaning up such threats, Imunify360 prevents attackers from bypassing authorization and gaining unauthorized access to sensitive information.
Web Application Firewall (WAF)
Imunify360's WAF protects your online store from various attacks, including SQL injections, cross-site scripting (XSS), and other common web application vulnerabilities. By filtering incoming traffic and blocking malicious requests, the WAF acts as a proactive defense mechanism, preventing hackers from exploiting vulnerabilities and compromising your website.
Proactive Defense and Intrusion Prevention System (IPS)
Imunify360's IPS continuously monitors your server for suspicious activities and blocks any unauthorized attempts to access or exploit vulnerabilities. It provides real-time protection against brute force attacks, DDoS attacks, and other malicious activities, ensuring the integrity and availability of your e-commerce website.
Security Incident and Patch Management
Imunify360 keeps track of the latest security vulnerabilities and provides timely updates and patches to address emerging threats. By automatically applying patches and security fixes, the suite ensures that your server and applications are always up-to-date, reducing the risk of exploitation through known vulnerabilities.
The recent security vulnerability discovered in the WooCommerce Stripe Gateway plugin highlights the importance of robust security measures for e-commerce websites. To protect your online store and customer data from cyber threats, investing in a comprehensive server security suite is crucial. By leveraging its advanced features such as malware detection and removal, web application firewall, proactive defense, and security incident management, you can fortify your server against potential attacks, ensuring a secure and trustworthy shopping experience for your customers. Stay proactive, prioritize security, and choose Imunify360 to safeguard your e-commerce business.