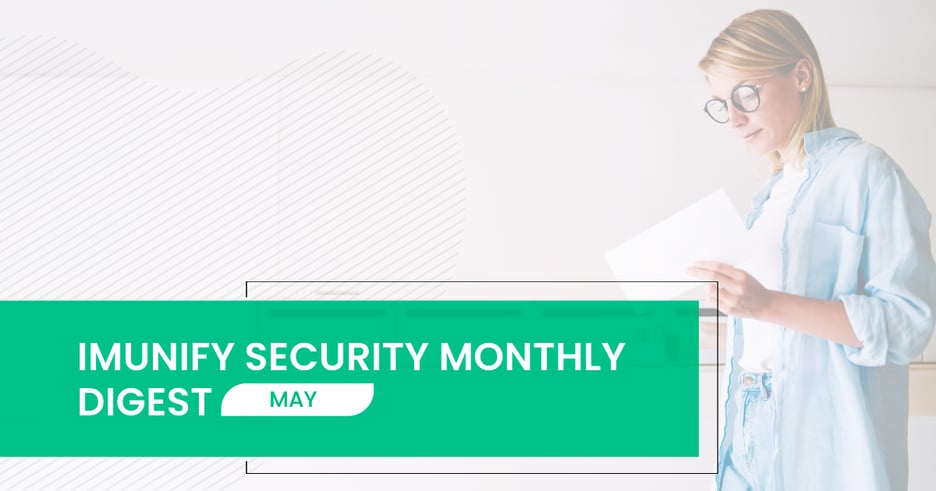 The Imunify360 team is excited to share the latest product updates, new products and initiatives that happened in May 2022. The new version of Imunify360, v.6.4, was released to beta and Imunify Email became available to the general public. The Imunify360 team is also excited to announce the release of two new features: Imunify360 demo and Dashboard Pro.
Imunify's new initiative, SecureSite, announces an Early Access Program for Hosting Providers. Also, the support team provides self-service portals, giving customers value through easy access to all documents
As you can see, we have a lot of product updates to share. Keep on reading to learn more.
New Releases - Imunify360 version 6.4. beta
Released in May, the new version of Imunify360 , version 6.4 beta, provides the following features:
IP management system improvement
In this release, we changed how users view IP address statuses. The new visual is a single table that puts each IP address status into a White, Drop, Captcha, or SplashScreen list.


Enhanced memory management for Malware Database Scanner
We expanded the Malware Database Scanner memory pool, and introduced a setting that lets users set a custom RAM usage limit.


Refined logic for scanning archives
By observing the patterns in the archived scans, we came up with a way to improve the detection of malware by changing the logic behind how they are scanned.
This blog post on Imunify360 version 6.4. beta will guide you through the new features.
The Imunify Security team is happy to announce SecureSite for Hosting Providers. SecureSite by Imunify is a new product that helps you generate more revenue from existing customers, attract new customers and add extra value to your WordPress hosting offering.
The official launch of SecureSite Early Access Program will take place in June, 2022. Register now and be added to the waitlist to be one of the first to know about the latest updates.
Hosting Providers must meet the following requirements:
Must have Imunify360 & cPanel installed on your server.
Be the first to make your WordPress hosting stand out. Check the link below to learn more and register now!
Imunify360 demo is going live!
We are pleased to announce that we are making a Demo Instance of Imunify360 available on our website. Now, to get a first glance at the interface, get acquainted with the product or examine functions and capabilities you just need to fill out our extra-short form and dive in. The demo will open in a browser window as the full and latest version of Imunify360 so,please feel free to explore it.
If you have any questions on how various parts of the interface work, what features and integrations are available or how to set up Imunify360 in your system:
We will start holding weekly webinars soon (separate notifications to follow), with time at the end of each session for live questions and answers. This is to make sure that people who just started to use Imunify360 or are considering doing so will have a smooth introduction to the product and a way to address any puzzling questions.
Imunify Email is an advanced email protection system with email filtering features designed to protect a host's reputation and reduce administrative burden. The solution is highly adaptive to the constraints of the environment and data-load. The beta version focuses on outbound email traffic protection and email quarantine scenarios.
To become a beta-tester, you must meet the following requirements:
Imunify360 & CPanel running on CloudLinux OS 7,8, CentOS 7,8 or AlmaLinux must be installed on your server.
In the past year, CloudLinux has completely redesigned and reorganized the Support team structure to drive toward the mission of improving customer experience. We also recognized the need to provide multiple options for obtaining support, since not all customers use support resources in the same manner. We want to ensure that each customer has the flexibility and freedom to choose the method that fits their individual needs. And of course, our primary focus is to provide customers with answers to the questions they have, quickly and independently.
In alignment with that strategy, we want to make customers aware that we have recently launched brand new Support Portals for CloudLinux (Support Portal | CloudLinux) and Imunify (Support Portal | Imunify360) products. Each of these Portals combines all of the resources that customers might need, powered by a Unified Search capability which instantly provides results from across all these resources. In these support hubs, customers can find all the information they possibly might need answering questions or troubleshooting issues. Unified Search brings results from across all the resources we have available.
Available resources include:
Knowledge base
Trending topics
Getting Started guide
User documentation
The latest changelog announcements
Technical blogs
Product videos on our YouTube channel
Customer Community forums
Ability to submit a ticket to live support
A word about the Customer Community forums. Some of you may have used these in the past but found their value to be limited. The brand-new version of the forums has been rolled out, not only preserving the information we have captured over the years but taking it further with more enhanced categorization, search, posts grouping, and Support moderation. We have assigned the most experienced Support Engineers on staff to moderate the forums and interact with clients to drive questions/issues/resolution in an open format. If you haven't visited the forums in the past - or haven't in a while - we invite you to give them a try.
One of the foundational elements of our support approach is based on Knowledge-Centered Service, or KCS® for short. Knowledge-centered service is a methodology developed by the Consortium for Service Innovation that focuses on knowledge as a key asset of the organization. In brief, the idea behind KCS is to integrate the creation and maintenance of knowledge into the process of interaction. KCS produces benefits by improving operational efficiency and organizational learning. There are four major points to KCS:
Integrate the reuse, improvement, and (if it doesn't exist) creation of knowledge into the problem solving process

Evolve content based on demand and usage

Develop a knowledge base of collective experience to date

Reward learning, collaboration, sharing, and improving
We're excited to share that CloudLinux has transitioned to the Knowledge-Centered Service (KCS®) methodology. This is a big step toward enhancing the customer experience. Since the KCS roll out in Autumn of 2021, we have seen faster response and resolution of customer inquiries, as well as higher quality and consistency in our customer responses. So far, the customer feedback has been excellent. Most importantly, our knowledge base (KB) has grown by over 30% in volume, and we are continuously adding to it in both quantity and quality. Please make sure to take full advantage of this great resource.
Your feedback is critical and valuable to us. Please keep it coming, and we promise to listen and act on it. We're committed to continuous improvement, and we need to hear from you to help us do that. Look for more enhancements throughout the year - and if there's something you want that isn't there, let us know. We're here for you every step of the way.
We are proud to say that, with our expertise,our users' support and detailed feedback, we created a high-quality antivirus solution specifically tailored for Linux web servers.
We don't make this claim lightly. Our AV proves its status based on outstanding results in the malware prevention field, backed by superior reliability and performance. Read our post to find out more.
We are pleased to present our new investigation and monitoring solution - Dashboard PRO. Imunify360 processes a vast data pool to deliver the highest-quality security solution. Dashboard PRO taps into this data pool and brings it to the surface so you can see information about servers, IP addresses, attacks, users, events, incidents and so much more. We created a set of highly useful visuals - graphs and tables for your convenience. It is a fully customizable solution. The user can create their own Queries and Dashboards to export, reflect, compare or investigate any bit of information stored in the database. Keep on reading to learn more.
CloudLinux provides ImunifyAV free of charge, and as such we do not offer live support for this product. If customers wish to communicate with our Support team for any reason, a purchased license for a product is required. We do, however, offer unlimited free online support for all of our products, including ImunifyAV. Please check out our Self-Service portal, where a tremendous (and constantly growing) amount of useful materials and support options are available.
Imunify Security May, 2022 Updates
Here is the list of all updates that took place in May, 2022: