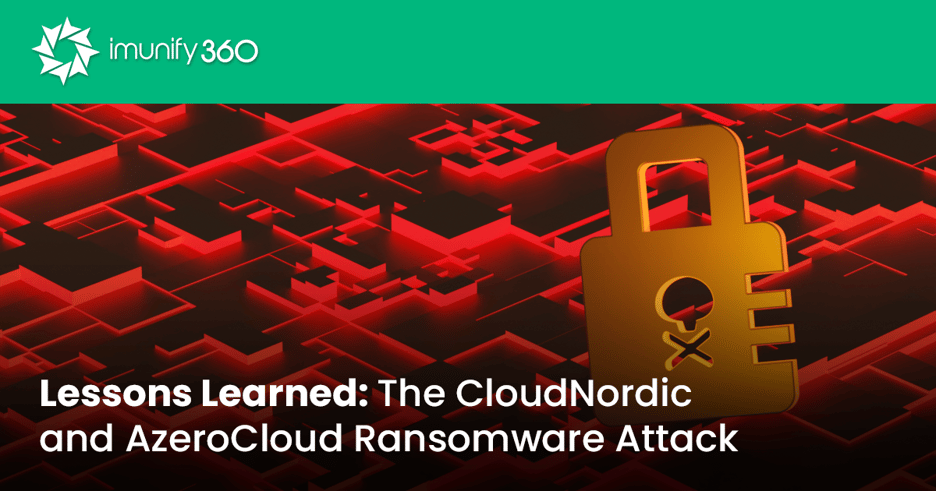 In the ever-evolving landscape of cybersecurity threats, no one is truly immune from the devastating consequences of a ransomware attack. Recent headlines have highlighted the unfortunate plight of Danish hosting firms CloudNordic and AzeroCloud. Their stories are a stark reminder that even the most vigilant organizations can fall prey to cybercriminals. In this article, we'll delve into the details of this attack, the lessons we can draw from it, and the importance of robust cybersecurity solutions like Imunify360 in safeguarding against such incidents.

The Attack Unfolds:
The nightmare began for CloudNordic and AzeroCloud when they fell victim to a ransomware attack that unfolded one fateful Friday night. The attackers infiltrated the hosting providers' systems, causing catastrophic data loss and forcing them to shut down all systems, including websites, email services, and customer sites. A Grim Situation: The aftermath of the attack left both CloudNordic and AzeroCloud in a dire situation. Despite their best efforts, data restoration proved challenging, and most of their customers faced the harsh reality of data loss. The companies' stance against paying a ransom to the threat actors was clear, and they immediately engaged security experts and reported the incident to the authorities.
Lessons from the Attack:
No One Is Immune: The unfortunate reality is that even companies with stringent security measures can be vulnerable to cyberattacks. CloudNordic and AzeroCloud's story highlights the importance of continuous vigilance.
Backup and Recovery Planning: In the face of a ransomware attack, having robust backup and recovery plans is crucial. Encouragingly, both hosting providers guided the recovery of websites and services from local backups and archives, demonstrating the importance of proactive data management.
Transparency and Communication: CloudNordic and AzeroCloud's transparency in sharing their ordeal and providing guidance to affected customers exemplifies responsible corporate behavior during a crisis.
Adopting Comprehensive Defense Strategies: Although not explicitly mentioned, it's evident that attackers exploited a vulnerability despite the presence of firewalls and antivirus protection. This highlights the necessity for robust security measures that offer defense in depth. Imunify360 stands as one such solution among many others in the landscape, emphasizing the importance of a multi-layered approach against ever-evolving threats.
Imunify360 in the background:
The attack vector for such issues are almost the same. The attacker tries to get access to the server either by executing a brute-force attack, then compromising the user's account or exploiting a known vulnerability.
Imunify360 has an advanced brute-force subsystem that works on the fly, it works smartly on user level auth (with its own pam module), ossec and Layer 3(firewall) which leads a smoothly block without causing false-positives.
Moreover, the WAF rulesets working on L7(http request) protects their server proactively blocking attacks against known vulnerabilities usually in CMS, besides scanning malicious uploads against malware, blocking even the malware code touch their file system.
As extra bonus, Imunify360 includes in its set of mitigation the KernelCare and Hardened-PHP, They will complement the mitigation, quarantining that you run the latest patched linux-kernel ever and updates are rebootless decreasing the maintenance window and while increasing the revenue.
When the attacker gets access to the server, the first step would be escalate to root through a LPE vulnerability and a up-to-date kernel will mitigate known Local Privilege Escalation, also PHP against any critical exploitable CVE.
Security involves technology that works on whole operating system layers since kernel to userland, and Imunify360 does this job well.
While this article doesn't intend to be an advertorial, it's important to note that security solutions like Imunify360 play a crucial role in defending against ransomware and other cyber threats. Its comprehensive protection, threat intelligence, and proactive monitoring can significantly reduce the risk of such devastating attacks.
This unfortunate ransomware attack on CloudNordic and AzeroCloud is a powerful reminder that cybersecurity should never be taken for granted. In a digital world fraught with threats, it's imperative to remain vigilant, have robust backup plans, and invest in cutting-edge security solutions. While we don't have all the details, we hope the affected companies and their customers recover from this ordeal and emerge more robust and secure.