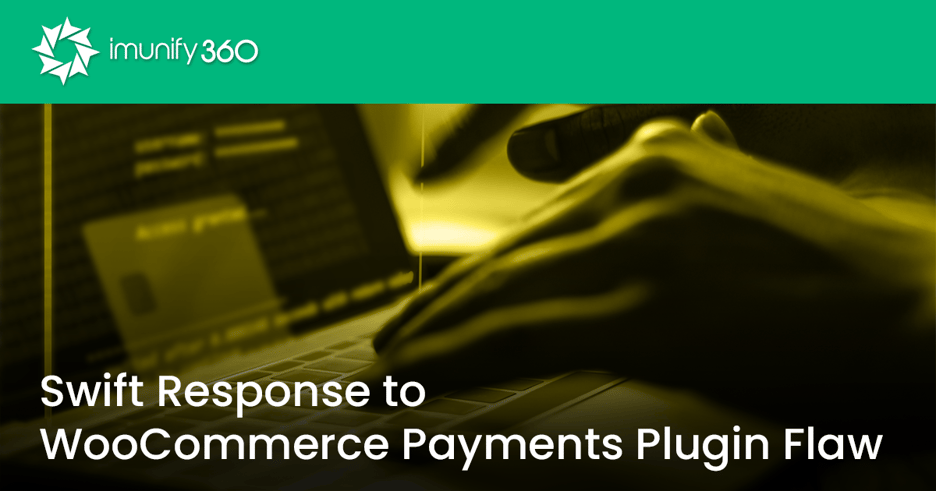 Cybercriminals, in their relentless pursuit of exploiting vulnerabilities, have recently focused their efforts on a critical flaw in the WooCommerce Payments WordPress plugin. This flaw, tagged as CVE-2023-28121, is a perfect example of how an unauthorized attacker can impersonate users and potentially gain complete control over websites. The sheer scale and potential for site takeovers underscore the importance of deploying comprehensive cybersecurity solutions, such as Imunify360, to detect and protect against such threats in real time.

Details of the Vulnerability:

The loophole affects versions 4.8.0 through 5.6.1 of the WooCommerce Payments plugin, currently installed on over 600,000 sites. Patches were rolled out in March 2023, yet many users may still need to update their software to the latest version, exposing their websites to this exploit. While WordPress has issued auto-updates for affected versions, it remains critical to maintain vigilance and proactively secure websites.


Exploitation Method and Potential Impact:

Attackers cleverly exploit this vulnerability using a specific HTTP request header, "X-Wcpay-Platform-Checkout-User: 1," tricking vulnerable sites into treating added payloads as if they originated from administrative users. This deceptive technique enables attackers to deploy the WP Console plugin, execute malicious code, and install a file uploader, giving them unauthorized access and persistence on compromised sites.
Moreover, the ongoing exploitation of Adobe ColdFusion vulnerabilities, such as CVE-2023-29298 and CVE-2023-38203, adds another layer of threat. Adobe has already issued patches for these vulnerabilities, but users must promptly update their Adobe ColdFusion installations to mitigate risks.


Addressing the Issues:

Though software patches for the WooCommerce Payments plugin flaw have been released, potential loopholes may still exist. Users must stay updated with the latest versions of plugins, themes, and platforms.


The Importance of Cybersecurity Solutions:

Incidents involving the WooCommerce Payments plugin and Adobe ColdFusion vulnerabilities bring the urgent need for robust cybersecurity measures to the forefront. Taking a proactive stance, like incorporating Imunify360, automatically detecting threats and informing users, is invaluable in safeguarding websites and sensitive data.
Prompt action by the Imunify360 team offers an exemplary response to such security threats. As the CVE-2023-28121 vulnerability disclosure was made, they worked swiftly to add protections to their Web Application Firewall (WAF) subsystems. As a result, customers using Imunify360 were shielded against large-scale attacks that began on July 14, 2023, showing the effectiveness of a dedicated cybersecurity solution.
In today's digitally connected world, prioritizing cybersecurity is more pressing than ever. By staying informed, updating software promptly, and harnessing the power of comprehensive cybersecurity solutions like Imunify360, individuals and businesses can strengthen their online security posture and counteract the ever-present risks of emerging security vulnerabilities.